Pianist-composer Yelena Eckemoff will release her most elaborate and ambitious musical work yet with 'Adventures of the Wildflower', on 19 March on the label L&H Productions. As its title suggests, the double album is the story of a life, from birth to death (and rebirth), of an anthropomorphic columbine flower. Its story is told through the inspired work of Eckemoff and a Finnish ensemble that includes saxophonist Jukka Perko, multi-instrumentalist Jarmo Saari, vibraphonist Panu Savolainen, bassist Antti Lötjönen, and drummer-percussionist Olavi Louhivuori.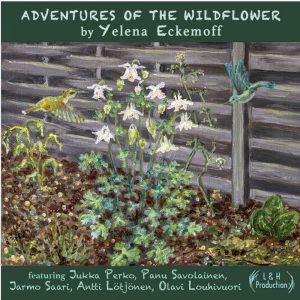 Yelena Eckemoff was born in Moscow. In her twenties, she found herself drawn to jazz—at a time when the music, or at least recordings of it, were a rare commodity in the then-Soviet Union. Yet an appearance by Dave Brubeck behind the Iron Curtain reinforced her newfound love of the music and shaped her creative path thenceforth.
That path turned out to run through the United States, where Eckemoff immigrated in 1991 and settled in North Carolina. Now ensconced in the country that gave birth to jazz, she went in search of players who could do justice to her intricate ideas.
The search was a long and sometimes frustrating one, but it paid off when she was able to work with the likes of bassist Mads Vinding and drummer Peter Erskine on her 2010 album Cold Sun. Later collaborators have included projects with Mark Turner, Joe Locke, Ralph Alessi, Billy Hart, Chris Potter, Adam Rogers, Joey Baron, Arild Andersen, and Jon Christensen, the great Norwegian drummer whose final recording was on Eckemoff's 2020 release Nocturnal Animals.
Having previously worked with Savolainen, Lötjönen and Louhivuori on her 2017 album, Blooming Tall Phlox (inspired by nature's smells), she was eager to return to Helsinki to record with them again. That she did in summer of 2019 (before the onset of the pandemic), with the addition of two highly regarded Finns: guitarist Saari and saxophonist Jukka Perko, who took a relay baton from trumpeter Verneri Pohjola.
Long a conceptualist, Eckemoff has previously tended to craft albums of thematically linked but discrete pieces. Adventures of the Wildflower, however, functions as a single narrative. The flower—aptly named Columbine—undertakes a vivid journey, growing from baby to mature plant as she observes from her garden spot the whirl of nature and of life, plant and animal, around her. She even learns to communicate with her garden mates, a real phenomenon that inspired Eckemoff to create the album when she read about it in a magazine.
"I was intrigued to learn that plants communicate with each other through the air, by releasing odorous chemicals, and through the soil, by secreting soluble chemicals," she says. "Such communal life sparked my imagination. I started to envision how a single plant would feel being part of such an interconnected community and how it would react to its neighbors who lived next to it. Soon I had a kernel of an idea about a wildflower."
Eckemoff supplements her original music with an 18-part narrative poem (one part for each composition) that tells Columbine's story. While nuanced, the narrative is built on an earnest simplicity, like a children's story. The music, on the other hand, is much more complex. The multiple levels of melody in "Home by the Fence" or "Children Playing with Seed Pods" are sumptuous feasts for both the ear and the intellect, while pieces like "Chickens," "Butterflies," and "Another Winter" are filled with experimental, even psychedelic, textures.
Credit for these soundscapes must go as well to the musicians who work with Eckemoff. The sounds Saari conjures from his guitars, theremin, and glass harp lend the music a unique palette, augmented by the bold, unconventional playing of Perko, Savolainen, Lötjönen, and Louhivuori. "They were fearless in approaching my extensive lead sheets," the pianist affirms. In Adventures of the Wildflower that fearlessness has, like Columbine, blossomed into a splendid and very alive specimen of its own.
With Adventures of the Wildflower, Eckemoff wanted to make an offering of positivity to her adopted country. "I was moved to make this record as my answer to our turbulent times," she says. "I believe that nothing is more important than for all earthly beings to find a way to live together peacefully, next to each other in the same community. Characters of my story may have disagreements with each other, but in the end, they always find a way to coexist together on the same plot of land."
The album will be available on the 19th of March 2021 on the L&H Production label (distributed in the UK/Ireland by Proper Music Distribution) as a physical CD and digitally on all of the regular platforms. More information can be found here.